Solensia: A New Treatment for Osteoarthritis in Cats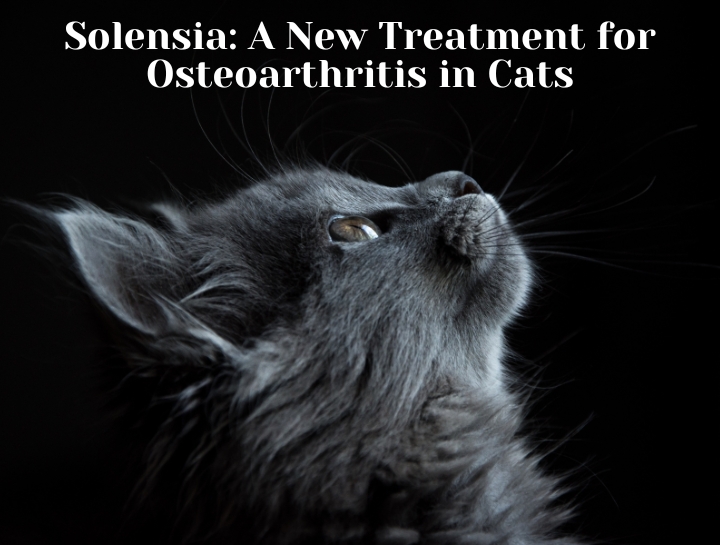 February 23, 2023
WE HAVE EXCITING NEWS FOR CAT OWNERS!!! The first FDA-approved medication to relieve the pain of osteoarthritis in cats is now available.
What is Osteoarthritis?
Osteoarthritis is a degenerative condition of the joints where the cartilage cushion breaks down. Over time, the bones inside the joint rub against each other, resulting in pain and decreased mobility. Sixty percent of cats over six years old, and 90% of cats over the age of twelve have osteoarthritis.
How was Osteoarthritis in Cats Treated Before Solensia?
Cats are NOT small dogs. Their bodies metabolize drugs differently and unfortunatly the types of medications that are used to treat pain in dogs are just not safe for long term use in our feline patients. The option before Solensia was to give the cat joint supplements that helped slow the deterioration of cartilage and prevented the condition from getting worse. This was a good long-term solution for the joint, but it didn't address the immediate pain the cat was experiencing. That's what makes Solensia so excititing! We now have an option that can really help treat the pain associated with Osteoarthritis.
What is Solensia?
Solensia is a safe and effective treatment for osteoarthritis in cats. It is a once-a-month injection given by your veterinarian to relieve the pain associated with osteoarthritis. It will help improve your cat's mobility, comfort, and well-being. Since this is a once a month injection, it makes treating your cats pain convenient! You don't have to worry about administering a pill once or twice a day which will make both you and your cat happy!
If you think your cat would benefit from this exciting new treatment, call us today to set up an appointment to explore your cat's options.
Clarendon Hills (630) 323-5500 | Western Springs (708) 246-6462